Mazi Jaka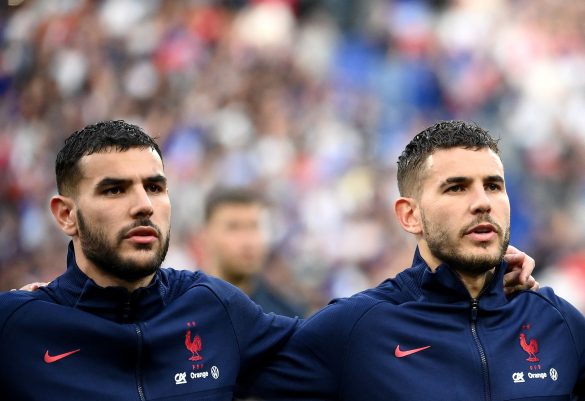 November 12, 2022
In an extensive investigation published this morning in L'Équipe, France Football journalist Olivier Brossard has recounted how he managed to track down Jean-François Hernandez, the father of French internationals Lucas and Théo, who was said to have gone missing in 2004.
Speaking to M6 in the build-up to the Euros in 2021, Lucas Hernandez had opened up for the first time about his father, explaining that he had never understood why he would leave the family from one day to the next, and that he did not even know whether he was still alive.
Hernandez is a former footballer himself, having played as a central defender for Toulouse, Sochaux and Marseille, before a spells in Madrid with Atlético and Rayo Vallecano. Former teammates – including now-PSG manager Christophe Galtier – were asked, most of whom were unable to provide any information as to his whereabouts. Others, including Franck Passi, speaking to L'Équipe in 2018, indicated that he had gone to Thailand.
After reaching out to the French expat community there, FF were able to find out that Hernandez had bought land, along with his brother, to build houses and run a bakery on the island of Koh Samui. However, they were also told that he had returned to France in 2020.
FF spoke to a childhood friend of Hernandez, who, despite insisting that he would not tell them anything, did confirm that he had "met up with him after Covid, he's doing fine. Those who know him know the truth, but I won't tell you more than that. Sorry."
Eventually, they were able to contact Bruno Saliba, a cousin of Hernandez who indicated that he was happy to clear the air: "The truth about Jean-François can finally be set out again". He explained that the M6 interview had hurt Hernandez, and that it wasn't he who abandoned his two sons, but rather his ex-partner, Laurence Py, who prevented him from seeing them. Saliba claims that "she did horrible things" and that Hernandez no longer had the strength to fight and packed his bags for Thailand. Similarly, Hernandez's eldest daughter Lauris, Lucas and Théo's stepsister, speaks of the brothers' mother as a "terrible person" when she spent summer holidays with her father.
A former friend and teammate Jean-Luc Reda explains that Hernandez's ex-partner "wanted to cut him off from his friends" . He adds that Py's brother was living with them but was not working nor paying for anything, but using their cars and motorcycle – "You felt that both of them were taking advantage of [Hernandez]". The relationship eventually ended in 2002 and Jean-François left to live on his own, nearby. His sister explains that he left behind everything in order to make sure his sons were living as best as possible, and claims that Py was making her ex-partner pay to see Lucas and Théo.
Lauris says that Hernandez never misses a France game – "He watches them alone, because he cries from virtually start to finish". Although he was contacted several times, Jean-François Hernandez himself declined to respond – Lauris explains that he doesn't want to appear opportunistic, even if he misses his sons: "We don't give a toss about Théo and Lucas' money. All we want is to see them again. My father especially."
The article ends with a word from Galtier – "It hurts me to find out that "Jeff" doesn't dare call me. I'm really emotional. I really want to see him, to speak on the phone. I know he's modest, but I have a thousand things to tell him. I can help him if he needs it."